17 Spectacular Stained Glass Designs for The Feast of the Ascension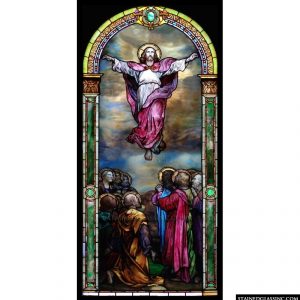 The Feast of the Ascension is a significant festival on the Christian calendar, commemorating the day when Jesus ascended into heaven 40 days after His resurrection on Easter Sunday. When it comes to artwork celebrating this awesome event, we have a host of spectacular stained glass designs for your church, chapel or home. If you want something special to bring a sense of the wonder of Christ's ascension, then have a look at these 17 examples of fine Feast of the Ascension works of art.
Each window is made from laminated polymer which is not only extremely strong (almost unbreakable) but is also lightweight and easy to install. The window inserts can be slipped in behind existing exterior windows, and can be customized to any shape or size. Besides being used as windows, these stained glass pieces could also look great as door panels or even sun catchers, ceiling panels or wall hangings.
At Stained Glass Inc we have more than 2000 exquisite designs to choose from, so these 17 Feast of the Ascension themed pieces will give you a foretaste of what is available.
The Ascension of Christ
https://www.stainedglassinc.com/window/2062-the-ascension-of-christ/
This lovely arched vertical panel shows the disciples looking on as Jesus rises up into the air. His arms are outstretched in a triumphant pose as He returns to take His place on the throne in heaven beside His Father God. The area at the bottom of the design would be ideal for including an inscription such as a name or Bible verse.
The Ascension Unto Heaven
https://www.stainedglassinc.com/window/3693-the-ascension-unto-heaven/
This contemporary abstract style design shows Jesus rising up amidst a crowd of astounded onlookers. The bold colors and modern look make this an ideal addition for any Christian home, religious school or church.
Ascension Transom
https://www.stainedglassinc.com/window/4075-ascension-transom/
If you have a transom window above your doors, this attractive domed design would be an ideal choice to commemorate the ascension of Jesus. Here Christ is portrayed in a royal purple robe as He ascends to take His rightful place on the throne of Heaven.
Resurrection and Ascension
https://www.stainedglassinc.com/window/4150-resurrection-and-ascension/
These twin panels make a striking set as both the resurrection and ascension are celebrated side by side. The rich deep tones of reds and blues serve to accent the whiteness and purity of Christ's robes in both images. This elegant stain glass window would look great in your home, church or hospital chapel.
Watching The Ascension
https://www.stainedglassinc.com/window/4631-watching-the-ascension/
In this stained glass Feast of the Ascension design a gathering of apostles, saints and angels are watching intently as Jesus rises up towards heaven. The dark sombre tones of the background are highlighted by the halos and the white and red clothing of Christ and the onlookers.
The Ascension in the Clouds
https://www.stainedglassinc.com/window/5006-the-ascension-in-the-clouds/
The spectacular event of Christ's Ascension is uniquely captured in this memorable stained glass design. Christ is shown floating up on a cloud as if seen through a classically Gothic-style window. The soft golden lighting suggests a sunrise, making this a truly exquisite panel to use in any church, prayer chapel or home where The Feast of the Ascension is celebrated.
The Ascension of Our Lord
https://www.stainedglassinc.com/window/5423-the-ascension-of-our-lord/
This interesting stained glass artwork gives a sense of lightness with Christ in flowing white robes on a glowing golden background surrounded by fluffy white clouds with rolling green hills below. The triumphant posture of Christ truly captures the joy of His ascension to His Father in Heaven.
The Ascension of Christ
https://www.stainedglassinc.com/window/6271-the-ascension-of-christ/
This traditional style stained glass image in muted tones is enhanced by the ornate and colourful frame. Jesus is seen ascending upwards while men, women and angels alike are looking on with wonder and awe. This would be an excellent choice if you are looking for a thought provoking Feast of the Ascension stained glass artwork for your home or place of worship.
Christ Exalted
https://www.stainedglassinc.com/window/2465-christ-exalted/
This stained glass window design gives a sense of depth and movement as the rays of light penetrate inwards around the image of Jesus Christ ascending. The intricate frame of twirled leaves and patterns offset this beautiful image perfectly.
Christ Ascends Unto Heaven
https://www.stainedglassinc.com/window/4101-christ-ascends-unto-heaven/
Mary the Mother of Jesus along with a group of disciples is shown here as they gaze up at the Lord who is rising heavenward on the clouds. The view-through-a-window effect gives this image a particular charm which would be a pleasing asset wherever you choose to display it.
Crucifixion and Ascension
https://www.stainedglassinc.com/window/4234-crucifixion-and-ascension/
These double arched panels show the two extremes of Christ on the cross and Christ ascending up to heaven. The design has an overall lattice work effect, giving an added intrigue to this attractive stained glass window.
An Angel's Welcome
https://www.stainedglassinc.com/window/5402-an-angels-welcome/
This poignant picture shows an angel kneeling in worship and adoration beside the ascending Christ. The gentle hues of the stained glass lend themselves to shimmering patterns as the sunlight shines and filters through this beautiful design.
King Jesus and the Great Commission
https://www.stainedglassinc.com/window/3747-king-jesus-and-the-great-commission/
The fascinatingly intricate design of this stained glass masterpiece invites hours of pleasure as onlookers ponder over each scene and figure. Right in the centre is the image of a victorious King Jesus ascending. The disciples are gathered below, listening to the great commission which Jesus gives them to go and spread the gospel throughout the world.
Prepare Your Place
https://www.stainedglassinc.com/window/4061-prepare-your-place/
The beautiful words 'I go to prepare a place for you' set the tone of this lovely stained glass design of the Ascension of Christ. Flanked by angels on either side, Jesus is robbed in purple with His arms spread wide in celebration.
Jesus Ascending Into the Clouds
https://www.stainedglassinc.com/window/3472-jesus-ascending-into-the-clouds/
This elegant narrow panel features sacred symbols as well as the central image of Christ ascending to Heaven. The bright colors and light background make this an ideal option as a window or door panel, or even as a wall hanging or sun catcher.
The Ascension of Christ Into Heaven
https://www.stainedglassinc.com/window/5259-the-ascension-of-christ-into-heaven/
This classic stained glass depiction of Christ's ascension is attractively framed in a Gothic-style arch and pillars. The artwork shows the disciples looking up in astonishment as their Savior King floats upwards in a spotless white robe. This inspiring masterpiece is sure to enhance any place or worship and devotion.
Jesus Ascends To Heaven
https://www.stainedglassinc.com/window/5278-jesus-ascends-to-heaven/
This intricate and ornately designed arched panel honors the Feast of the Ascension theme as Christ is seen preparing to return to Heaven and take his place on the throne beside His Father God. This hand crafted work of art would look equally lovely, whether you use it as a window insert, door or ceiling panel or wall hanging.
If you have been inspired by these 17 stained glass designs for the Feast of the Ascension, why not give us a call or email to order the artwork of your choice. Remember, we specialize in customized designs and our skilled artisans will be happy to help you find exactly what you are looking for.