The Visitation of the Blessed Virgin Mary in Stained Glass
Visitation of the Virgin Mary Stained Glass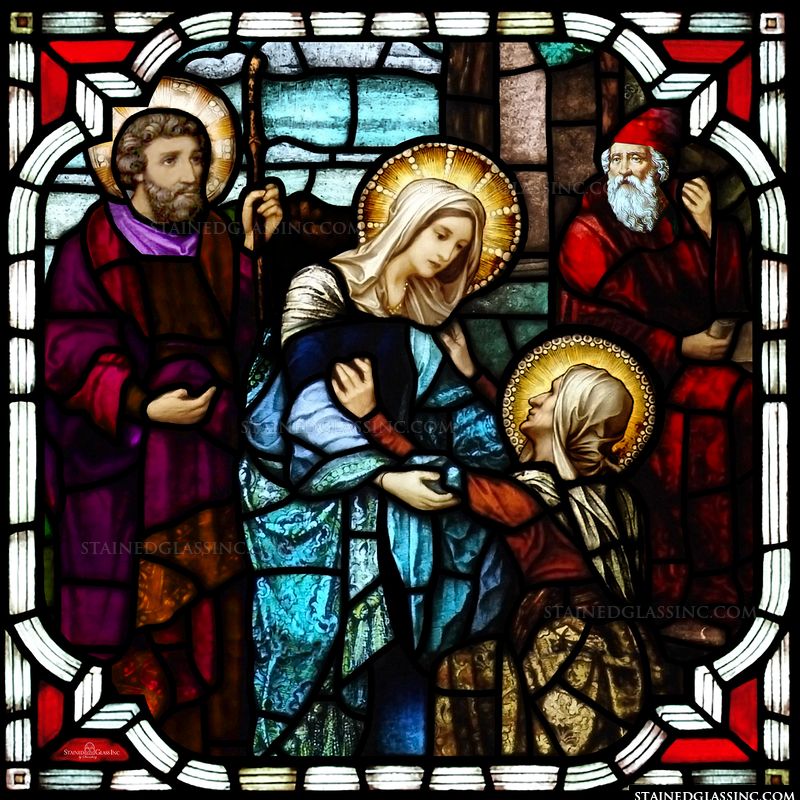 One of the most beloved Bible stories is the Visitation of the Blessed Virgin Mary with Elizabeth. Both women have the privilege of mothering two of Christianity's most important figures, John the Baptist and Jesus Christ, the Savior Himself. This treasured moment in Christian history has been illustrated time and time again in charming beauty and is a favorite choice among stained glass designs to use for stained glass windows and stained glass panels in churches and homes.
Bible History of the Visitation
The Visitation encompasses a visit by Mary to Elizabeth after she received the announcement from Gabriel that she was to give birth to God's Son, the Messiah. This moment in Bible history is recorded in the Gospel of Luke. Elizabeth was a cousin to Mary and at the time of the Visitation they were both pregnant. When Elizabeth first heard Mary's voice she exclaimed "Blessed are you among women, and blessed is the child you will bear! But why am I so favored, that the mother of my Lord should come to me?  As soon as the sound of your greeting reached my ears, the baby in my womb leaped for joy.  Blessed is she who has believed that the Lord would fulfill his promises to her!" Luke 1:42-45
This Visitation of the Blessed Virgin Mary to see Elizabeth was more than just a quick trip as Mary stayed three months with Elizabeth until just before John the Baptist was born. The Catholics believe that the Visitation was intended to bring divine grace to Elizabeth and John so that he would recognize the Divine Savior later on when they would meet again as adults.
The feast day associated with the Visitation of the Blessed Virgin Mary was added to the Roman calendar by Pope Urban VI in 1389 and is still celebrated on May 31st to precede the feast of the birth of John the Baptist.
The Visitation in Stained Glass
To capture the inspiration, spiritual grace, and devotion Mary had for God and her responsibilities, our skilled stained glass artisans have created many different designs for stained glass panels and stained glass windows of the Visitation that can be used in a church, chapel, or home.
Our Visitation in stained glass selection includes dozens of designs that feature this touching meeting between Mary and Elizabeth. There are various sizes and shapes that include a wide array of modern, cathedral-style, Gothic style, Tiffany style and traditional interpretations of the Visitation that fit different architectural graces and settings.
Benefits of Stained Glass Inc. Stained Glass
Whether you opt for a depiction of the Visitation in stained glass as your image of choice or you select another religious or non-religious stained glass design, there are some key benefits to selecting Stained Glass Inc.:
The world's largest selection of stained glass designs
Handmade stained glass from skilled, U.S. artisans
Stained glass free of any lead
Heat fusion technology that creates uniform strength and high-impact resistance
High-quality, completely customizable stained glass at factory-direct prices
Environmentally-friendly stained glass that helps to reduce drafts and increase insulation
Exceptional service with expert recommendations from friendly, responsive staff
To get started on a stained glass window, stained glass door, or stained glass hanging that features the Visitation or any other Christian imagery customized to fit your church or home, be sure to call us at 903-454-8376, send an email to info@stainedglassinc.com, or fill out our contact form online.